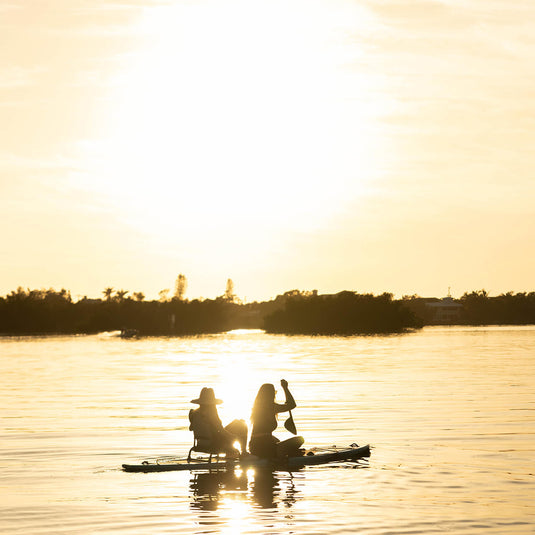 WARRANTY POLICY
Vanhunks Boarding warrants that this product, when purchased from an authorized Vanhunks Boarding dealer by a retail customer, will be free from defects in materials and workmanship for 60-months from the date of purchase by the original retail customer. All hardware, inserts, and components carry a 12-month warranty. This warranty is solely for the benefit of the original retail purchaser and may not be assigned. For retail customer Limited Warranty claims, proof of purchase from an authorized Vanhunks Boarding dealer is required.
The warranty is valid only when the product is registered in the support section of www.vanhunksboarding.com within seven (7) days from the date of purchase.
The warranty is valid only when this product is used for normal recreational activities and does not cover products used in rental or commercial operations. Vanhunks will make the final warranty determination, which may require inspection and photos of the equipment, clearly showing the defect(s). If necessary, this information must be sent to the Vanhunks distributor in your country.
If a product is deemed defective by Vanhunks, the warranty covers the repair or replacement of the faulty product. However, Vanhunks will not be responsible for any costs, losses, or damages incurred due to the failure of this product's use.
This warranty is void if any unauthorized repair, change, or modification has been made to any part of the equipment.
The warranty for any repaired or replaced equipment is effective from the date of the original purchase only.
The original purchase receipt must accompany all warranty claims. In addition, the name of the retailer and date of purchase must be clear and legible.
There are no warranties that extend beyond the warranty specified herein.
Any repair or replacement of any product under this Limited Warranty is not available for ordinary wear and tear, including scratches or paint chips, or any damage caused by misuse, abuse, unauthorized modification or repairs, accident, heat, excessive exposure to sunlight, excessive exposure to cold, improper handling, storage, maintenance or care; incorrect setup, use in commercial, rental or teaching environments; use in reef waves, shore break or off the water; any blow or impact with a hard object or any other irresponsible use.
THE PRECEDING LIMITED WARRANTY IS EXCLUSIVE AND IN LIEU OF ALL OTHER WARRANTIES OF QUALITY, PERFORMANCE, WRITTEN, ORAL, OR IMPLIED, AND ALL OTHER WARRANTIES, INCLUDING ANY IMPLIED WARRANTIES OF MERCHANTABILITY OR FITNESS FOR A PARTICULAR PURPOSE, ARE HEREBY DISCLAIMED. IN NO EVENT SHALL VANHUNKS BOARDING BE LIABLE FOR SPECIAL, INDIRECT, INCIDENTAL, CONSEQUENTIAL, STATUTORY OR EXEMPLARY DAMAGES, WHETHER IN CONTRACT, TORT, NEGLIGENCE, STRICT LIABILITY OR OTHERWISE including, without limitation, loss to property other than this product, loss of use of the said product, or other property or other economic losses.
RETURNING MERCHANDISE
You can return most new, unopened items within 30 days of delivery for a full refund. Unless otherwise noted, the refund will be for the total value of the returned items. Courier, delivery, and handling fees will not be refunded.
Products can be returned directly to Vanhunks Boarding only if Vanhunks Boarding provides a Return Manufacturer Authorization (RMA) in advance. The Return Manufacturer Authorization must be clearly labeled on the outside of the package, or the parcel will be refused and returned to you. Vanhunks Boarding is not liable for loss of items returned without an RMA in advance. All merchandise with an RMA must be shipped back to Vanhunks Boarding within seven days of the date that the RMA was issued (you may send by any method you choose). Please retain your shipping confirmation for proof of shipping within seven days of RMA creation until you have received a refund or exchange from Vanhunks Boarding for the returned product. Any return that not shipped within the seven-day window will be refused, and the RMA will be null and void.
TO GET AN RMA NUMBER, FOLLOW THESE INSTRUCTIONS:
Complete the Warranty claim form on the support section of the Vanhunks Boarding website. The RMA number will be sent to you via email within 48 hours.
 What you will need to provide:
Proof of purchase, date, and place of purchase, and original purchase price.
Kayak serial number (engraved on starboard bow and stern), model name, and colour.
Consumer name, address and telephone number.
A detailed description of the problem.
Secure your equipment inside the original shipping box. If the original packaging materials are unavailable, you must obtain and use similar packaging materials and make every effort to ensure that the product is not damaged during shipping. Make sure to include all packaging, including any protective wrapping. Please also include a copy of the original packing slip with your return.
Write your RMA number on the box in LARGE letters next to the shipping address. For example, "RMA 1140."
Return Shipping Address:
Our contact center will contact you with return details, addresses, and steps to follow.
Any unauthorized or improperly packaged merchandise will be returned to the sender.
Items not purchased directly from Vanhunks Boarding (via www.vanhunksboarding.com) still receive the same Fair and Reasonable Timeframe Warranty but are warranted through the original place of purchase only. Please contact the original place of purchase for warranty claims.
WE DO NOT DEEM THE FOLLOWING CIRCUMSTANCES REASONABLE WARRANTY REQUESTS
Alterations or repairs not done or authorised by Vanhunks Boarding.
Damage from sunlight or improper recreational use or care.
Warranty request without proof of purchase.
Products used for promotional use.
Product used for commercial use eg. For example, rentals, lodges, tours.
Fair wear and tear.
Product to have been subject to abnormal use, misuse, abuse, negligence, accidents, damage due to environmental or natural elements (extreme weather conditions), or improper storage.
Kayaks that have been towed by power or sailboats.
Kayaks are secured, stored, or tied to a vehicle through the handles.
Kayaks sold as "demos" or in "as is" condition.
Scratches
Damage or defects caused by collisions, abuse, misuse, or accidental damage.
Damage or defects caused by transport, loading, unloading, dropping, out of water handling, or similar.
Damage or defects caused by exposure to temperatures over 70 and under 0 degrees Celsius.
Service and Support:
If you have any questions about the Vanhunks Boarding Limited Warranty or procedures for making claims thereunder, please contact Vanhunks Boarding at support@vanhunksboarding.com.
If your kayak has an issue you believe could be covered by warranty, contact the nearest authorized Vanhunks dealer. You can find a listing of all dealers on our website.
Contact us:
Email: support@vanhunksboarding.com
Activate your Warranty: REGISTER YOUR PRODUCT